The Cagayan Valley Chapter Order of DeMolay's First Stated Meeting: The start of a new journey This day is very significant to our brothers since...
DeMolay Alumni Chapter News
At Brigada Eskwela 2023, the Tomas L. Cabili Chapter, with support from like-minded organizations, exemplified the power of community unity. This event, a modern-day Bayanihan, underscores the significance of education and the vital role of public schools in safeguarding our freedom. It's a testament to the unyielding Filipino spirit, where diverse groups come together to make a difference.
Hon. Edison Abella, Grand Master of the Supreme Council, Order of DeMolay (SCOD) received the signed form and membership payment of Senior DeMolay Simeon...
As Typhoon Paeng loomed over the clouds of the Philippines on the 29th of October, 2022, the strong winds blew and endless rain fell,...
Last August 12, 2022 (Friday) THEME: "The public schools are the foundation of our country's greatness" Narra Chapter No. 42 Order of DeMolay continues to take...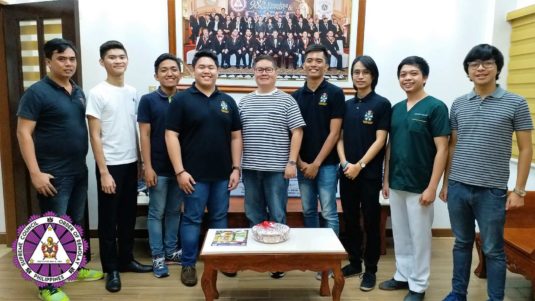 The Order of Knighthood is an appendant organization under the Supreme Council, Order of DeMolay, Qualified members to the Order of Knighthood are Active...
At the 9th Luzon Jurisdictional Conclave, the Severino Boys Chapter experienced a mesmerizing array of activities and ceremonies, leaving them in awe of the DeMolay spirit that enveloped every aspect of the event. The heartfelt gratitude of the chapter was extended to the Brother DeMolays and Dads Masons of Baguio Chapter No. 9 for their remarkable efforts in organizing the unforgettable gathering. From exploring the captivating beauty of Burnham Park to witnessing the installation of the New Jurisdictional Master Councilor, the chapter members embraced each moment with enthusiasm and pride. The Conclave Olympics brought a moment of glory as they secured an impressive third place, and the DeMolay Ritual Competition showcased the dedication and skill of their participants. As the Grandmasters Night drew to a close, the Severino Boys bid farewell to fellow brethren, reflecting on the shared experiences and looking forward to a promising future for DeMolay.