Filipino DeMolay Singapore Alumni Chapter No. 46 will be having their Fundraising Activity called "Rasta Singapura" Reggae Party on June 9, 2018 at Cedro...
DeMolay Alumni Chapter News
Hon. Edison Abella, Grand Master of the Supreme Council, Order of DeMolay (SCOD) received the signed form and membership payment of Senior DeMolay Simeon...
40th Anniversery of Semper Fidelis Chapter, Order of DeMolay. DeMolay Sportfest! with the theme: "Celebrating the Camaraderie and Brotherhood among DeMolays through Sports" When : August 4, 2018...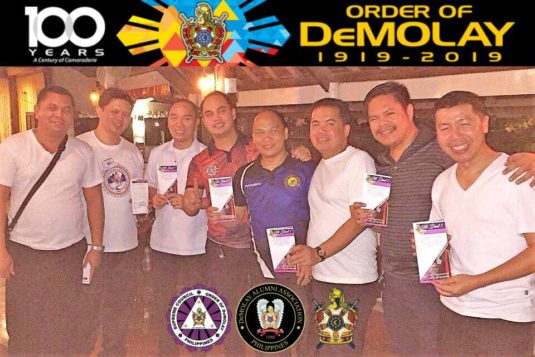 An entire group of Master Masons from Crescent Masonic Lodge No. 419 in Cebu City had signed up to give their collective support to...
The following are excerpts from the speech of Grand Master Edison Abella given during the 21st DANCON: "As we begin the run-up to the DeMolay...
During the installation of officers or founding anniversaries of DeMolay Chapters or in any event or activity of the Grand Lodge of the Philippines...
"No other organization makes you kneel before your mother, hold her hand, and tell her that you love her." This is what Bro. Datu...