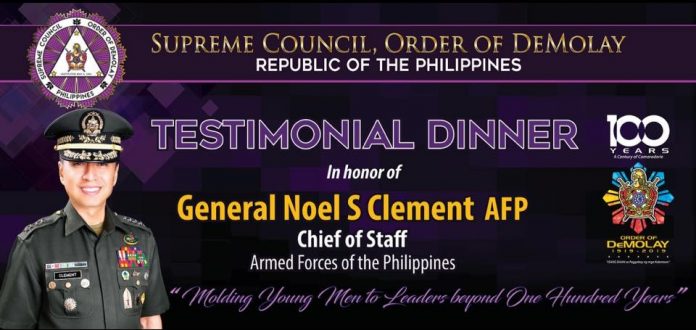 Dateline: Mnl/06November2019/tgc/1615hrs
The Special Session of the Supreme Council, Order of DeMolay (SCOD) of the Republic of the Philippines begins at 8:30 in the morning of November 10 (Sunday) and ends with a Testimonial Dinner in honor of General Noel S. Clement.
Brother Clement is the first-ever Senior DeMolay to become the Chief of Staff of the Armed Forces of the Philippines (AFP) will also be awarded with the DeMolay Legion of Honor (LOH).
His wife, Geraldine, is a member of the JDI and the IORG and her three siblings — Romeo E. Valerio, Xerxes Romulo E. Valerio and Romielito E. Valerio — are Brother Senior DeMolays.
The Special Session's registration fee, which covers both lunch and dinner, is at P1500/head. The veñue for the Special Session is at the Jose Abad Santos Hall of the GLP, while lunch and dinner will be served at the Emilio Aguinaldo Hall, also at the GLP.
The event is open to all members of the Masonic family.
For further inquiries, contact Ms. Cristina "Ting" M. Sordan, the SCOD Executive Director at 0917-144 5254 or Ms. Regielyn Casidsid (Ate Rej) at 0906-491 3645. SCOD line 5243854.
Credits to Bro. Tito Chevalier