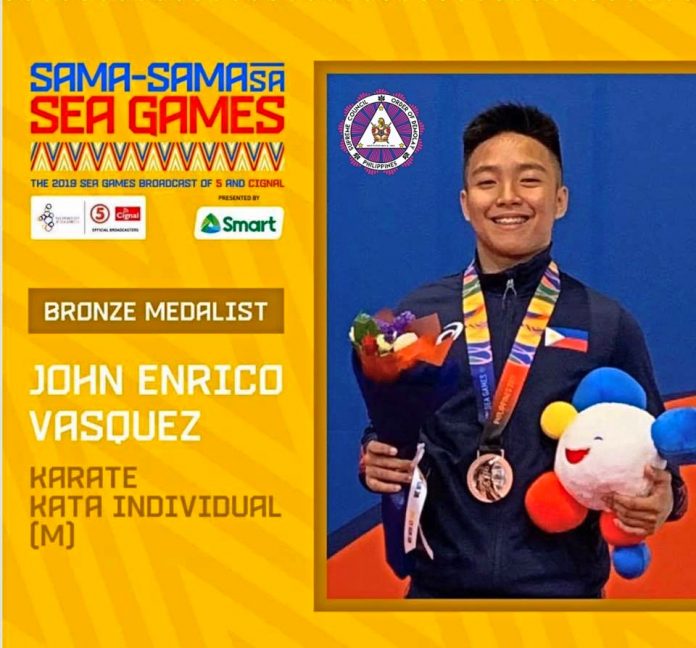 Dateline: Mnl/11December2019/tgc/1430H
"No Guts, No Glory" was credited to Maj. Gen. Frederick "Boots" Blesse who was a highly decorated American fighter pilot who flew two tours of duty during the Korean War in the 1950's and two tours of duty during the Vietnam War.
The said saying and so with "No Pain, No Gain" has applications for both the military and even to a civilian's challenges in life. Albeit still reminiscent of its military roots, is often applied to a strict, aggressive exercise.
Such was in the case of Br. John Enrico "Joco" L. Vasquez who established authority in the 30th South East Asian Games (SEAG) and won for the country two bronze medals in the Karate Kata competition.
Brother Joco, a Past Master Councilor of the Pangasinan Chapter does not only bring pride to his Mother Chapter but also to the entire Order of DeMolay and the Masonic family.
"You made us proud. DeMolays win as One," said the Hon. Rodel Riezl "Riz" SJ. Reyes, a Past Grand Master of the Supreme Council, Order of DeMolay (SCOD).
His Chapter belongs to Region 2-B headed by Brother Melvin M. Calimlim, the Region's Executive Officer of the Supreme Council, Order of DeMolay (SCOD) of the Republic of the Philippines.
Credits to Bro. Tito Cruz, Chevalier