NARRA CHAPTER GIVES AWAY FREE PERSONALIZED MASKS TO MEMBERS
Narra Chapter Order of DeMolay from San Jose City, Nueva Ecija joined the call of the health authorities and that of the nation, to mitigate, fight and stop the spread of the COVID 19 virus, by distributing personalized re-usable masks to most of its members last August 2020. These personalized re-usable masks were given out for free to most of the members of the chapter.
Through the initiative of its Master Councilor Bro Miguel S. Raagas, the chapter distributed the re-usable masks with the Narra Chapter colors and emblem to most of its members for use against the spread of the COVID 19 virus and for the individual safety of the members concerned.
"We thought of the safety of the members of Narra Chapter first and foremost during this pandemic. That's why we thought of this project for my term." said Master Councilor Raagas. With the sponsorship coming from his father Bro Michael Raagas, a member of Narra Chapter and Royal Guardsmen DeMolay Alumni Chapter No. 49 in London, they came up with the money necessary to fund the manufacture of the personalized re-usable masks.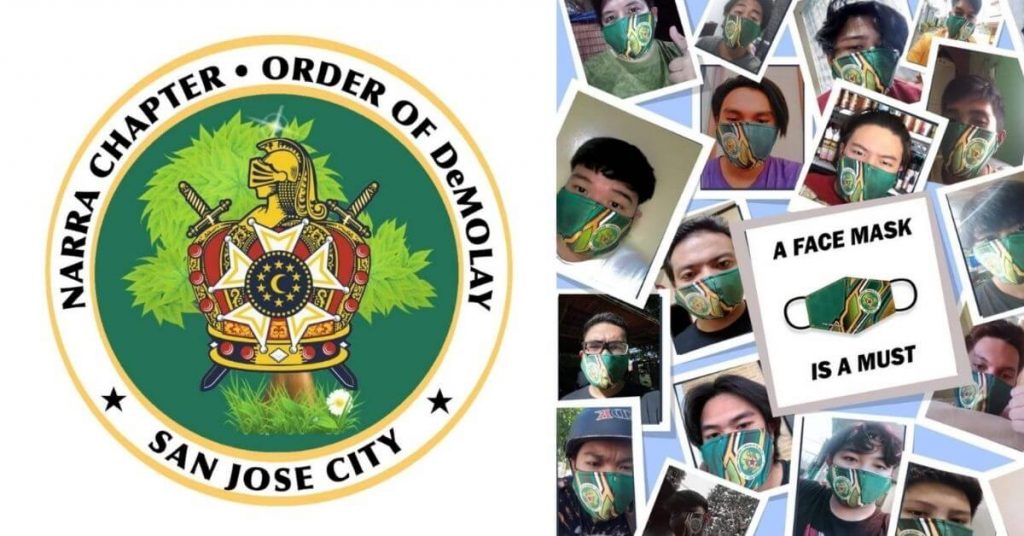 All in all, 50 pieces of these personalized and re-usable masks were distributed and given away for free to the members.
"Disposable masks are added pollutants to our environment" opined Raagas. "Re-usable masks are environmentally friendly. That is why we chose it instead of giving away disposable masks" added Raagas.
"Since my term fell during the pandemic, I wanted a project that could help with the safety of my fellow brothers in Narra Chapter. I asked the help of my father and he responded with the sponsorship of the masks" ended Raagas.
Together with the distribution of the masks, Narra Chapter also echoed the campaign of the health officials of the government to follow all the mandated minimum health protocols to all its members.
Credits to Bro. Alvin Llanderal, Chev., LOH