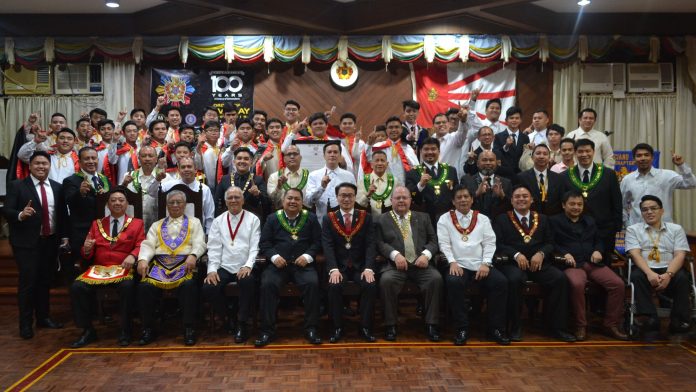 The Team visited the Chapter Meeting & Adopt A Public School Project Launch, organized by Feliciano Iñigo Chapter, Davao—the last leg of the DeMolay Week visits.
The Active and Senior DeMolays warmly received the dignitaries at the Francisco Bangoy International Airport. Present were GM-SCOD Hon. Edison Abella, PGM-ISC Hon. Gregory Kimberling, PGM-SCOD Hon. Rodel Riezl SJ. Reyes. Also accompanying them are PNP-DAAP Bro. Ibarra C. Poliquit, and PIKC-TMSP Bro. Jacob M. Tolentino. They were able to witness and appreciate a cultural dance performance.
As in Iloilo, the Chapter opened in the usual manner in order for Dad Greg to witness another Filipino-displayed Chapter Opening Ceremony, and was deeply impressed. "Excellent" and "Very Proficient" was some of the remarks made.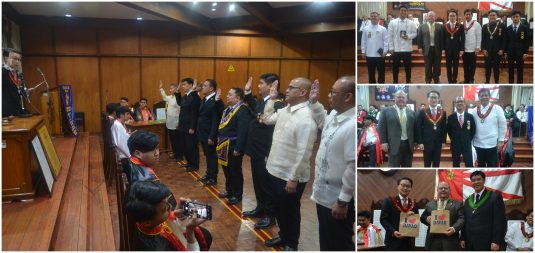 Centennial Fellows were collared and pinned with their jewels, sign of support for the sustainability of DeMolay Philippines through the DeMolay Leadership Academy.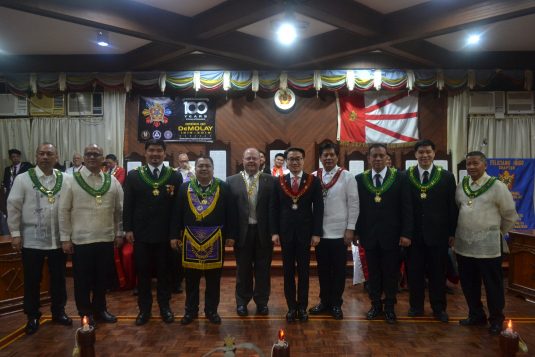 Supreme Council officers also present were JDGM Mindanao Dad Manuel Liam C. Garcia, Ex-O Region 11-A Dad Jess Zachael B. Espejo, and GJD Dad Jonlanie E. Malones.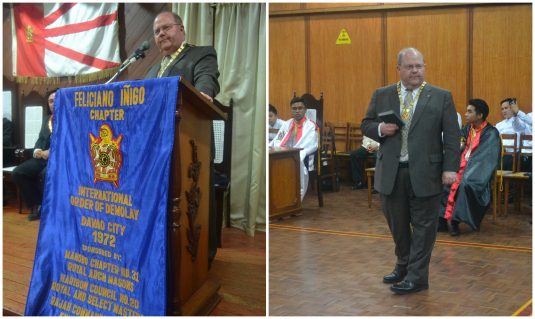 Dad Greg applauded the members that they not only memorized the Ritual, but they really understood what they were saying. He inspired them that our Ritual and the set of standards we all have dedicated ourselves, is the same obligation that he took, and that millions of men worldwide have taken across a hundred years, and that all these should be inculcated throughout our days.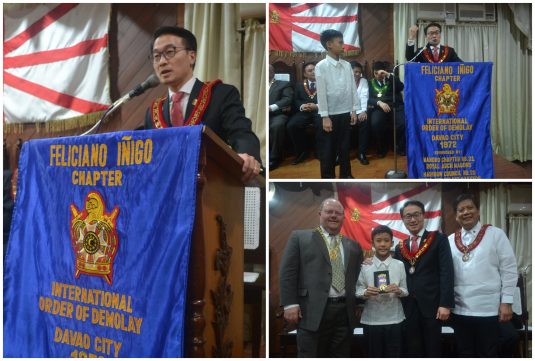 This is Dad Edison's last time, in his term, as a Guest Speaker. Dad Edison gave the brethren a glimpse of what to expect in the Grand Centennial Celebration. To inspire everyone as well, he surprised and awarded the Louis G. Lower Centennial Fellow to the youngest DeMolay in the room, Bro. Alan Rafael S. Solis (12). The Chapter unanimously voted that Dad Edison and Dad Greg be made Honorary Members of the Chapter.
Afterwards, the DeMolays and Dad Masons shared dinner in their fellowship night in Roadway Inn.
Earlier in the morning, the DeMolays and Masonic District Region XI-A with DDGM Dad Glenn Polinar donated a new Philippine Flag, pencils & toothbrushes, to San Roque Central Elementary School. This marks the official launch of the Nationwide DeMolay Adopt a Public School Centennial Project.
Dad Greg got to share a few words of inspiration for the pupils of the school. He mentioned how important education is to the future of a young child. He also expressed gratitude for the warm welcome given by the school.
We want to thank the brethren and Dads of Feliciano Iñigo Chapter, and all the people who made this event a success it is. Congratulations, brethren!
Next up: Manila Grand Centennial Celebration and 14th Biennial Session of the Supreme Council! 
Credits to Bro. Jacob M. Tolentino, PIKC-TMSP