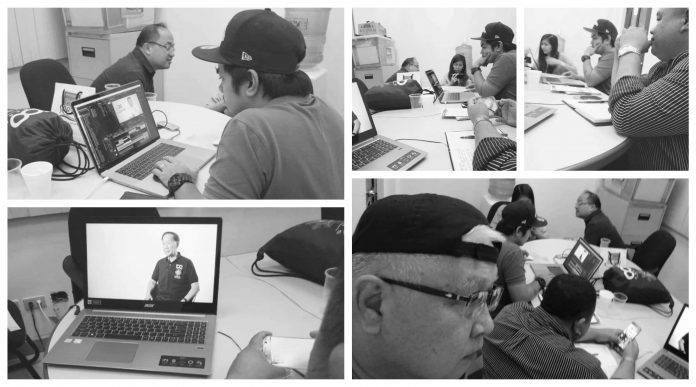 "And that's the way it is, December 20, 2018."
This is what the late DeMolay Brother Walter Leland Cronkite Jr., a once famous American broadcast anchorman of CBS and a member of the Houston Chapter would have said after a days work.
For almost 10 hours the centennial production team of the Supreme Council, Order of DeMolay spent a brain-draining and eye-straining non-stop deliberations, selection, editing and packaging of infomercials and of approximately a dozen interviews that will be presented during 100 years celebration of the Order on March 16, 2019 at the PICC.
Messrs. Neil Pedrosa and Jerome Escobido of the Events Essential Production (EEP), Bro, Tito Cruz, a veteran broadcast journalist himself and Bro. Ramil Ildefonso Badajos were left unperturbed in one of the rooms of the PDYC to focus on their tasks. SCOD Grand Master Edison Abella, Leg. Ericson "Eric" B. Atanacio, the Centennial Chairman and Ms. Ma. Cristina "Ting" M. Sordan, SCOD Executive Director were on hand for consultations.
The final draft of the said production will be presented to Grand Master Abella and the SCOD Executive Committee for their perusal and approval.
Credits to Bro. Tito Cruz, Chevalier