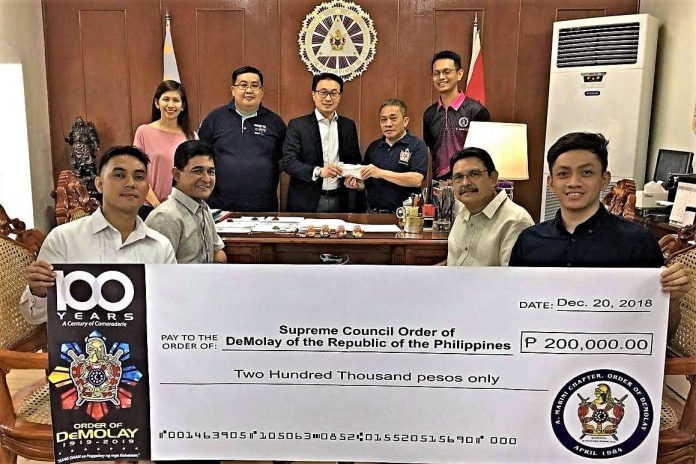 Hon. Edison Abella, Grand Master, and Ms. Ma. Cristina M. Sordan, Executive Director of the Supreme Council, Order of DeMolay formally accepted the cheque amounting to P200,000.00, representing the membership of A. Mabini Chapter to the Grand Master Centennial Knights under the DeMolay Crusades last December 20, 2018 at the Philippine DeMolay Youth Center in Manila.
Grand Master Abella received the delegation from A. Mabini Chapter, the third DeMolay Chapter to become an elite member of the Grand Master Centennial Knights, was represented by Dad Ed Escaño, Chairman of SCOD's National DeMolay Congress Committee of Advisors; Senior DeMolays Chriss Santos, Chapter Advisor; Edgar Cruz, Philamer Celi, Butch Paras, Johnny Escultura, and VW Rommel Carag.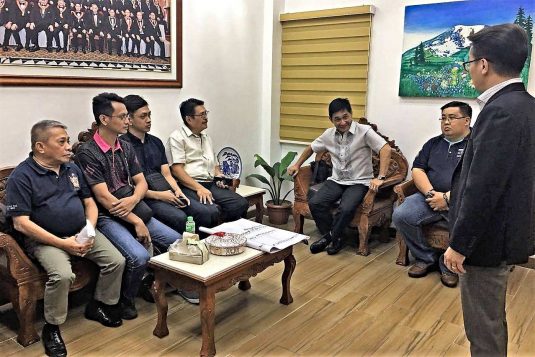 The Grand Master Centennial Knights is an once-in-a-lifetime membership category offered for a limited period to a select group of individuals, organizations and corporations, who champion the worthy cause of character building and leadership development among the youth and are willing to make a considerable investment to their future. The other membership categories for individuals are the Frank S. Land Centennial Fellows for Master Masons, Jacques DeMolay Centennial Fellows for Senior DeMolays, and Louis Gordon Lower Centennial Fellows for Active DeMolays.
Credits to Bro. Barry Poliquit, Chevalier