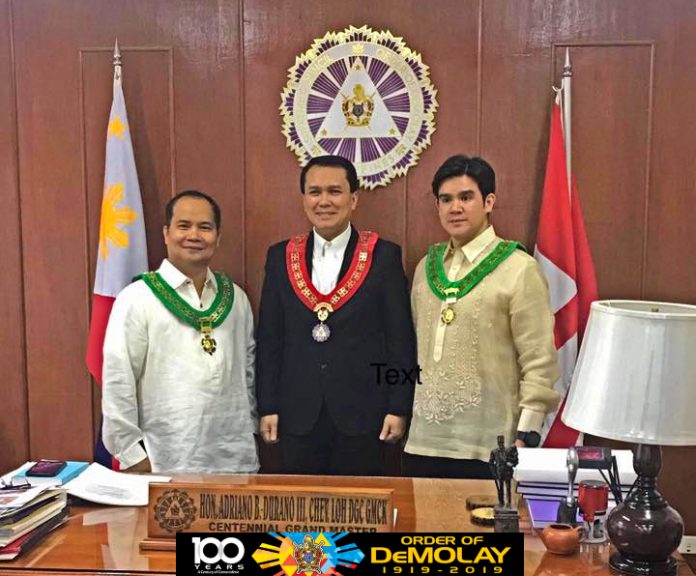 Dateline: Mnl/12January2020/tgc/1200H
SCOD CGM Adriano B. Durano III got a visit at the PDYC from three brethren coming from across the seas.
The visit came yesterday (January 11) by Brothers Noel P. Antonio of JASC/Nilad Masonic Lodge No. 12, Reynaldo A. Fronda of JASC/Temple Lodge 6 of the Grand Lodge of Ireland and Jephthat G. Dais of the Knickerbocker Chapter/Jacques DeMolay Lodge UD of the Grand Lodge of New York.
Both Brothers Dais and Antonio had their FSLCF oathtaking and collaring before CGM Durano at his office.
Among other purposes, Brother Dais, the incumbent WM of Jacques DeMolay Lodge UD in New York, flew all the way from the U.S. to attend the public installation of the Jacques DeMolay Masonic Lodge No. 305 which was also held yesterday at the GLP.
Chevalier Antonio is JASC PMC, a member of the Thomas Michael Sherry Priory, the Jose Abad Santos DeMolay Alumni Chapter (JDAC) no. 12, the Kingdom Knights DeMolay Alumni Chapter (KKDAC) no. 51 in Al Khobar, Kingdom of Saudi Arabia and a Master Mason of Nilad Masonic Lodge No. 12.
Accompanied by Brother Fronda to the PDYC, Brother Antonio works as a Senior Mechanical Engineer in Dammam, Saudi Arabia.
Credits to Tito Cruz, Chevalier