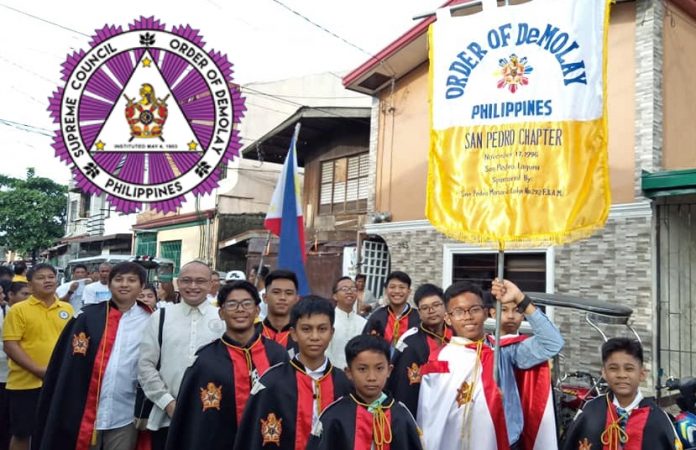 San Pedro Chapter, Order of DeMolay celebrates the 121st Independence Day with San Pedro DeMolay Alumni Chapter No. 32 and San Pedro Lodge No. 292 F. & A.M. We would like to thank our Dad Masons for inviting us to participate with the Independence Day Celebration at that San Pedro Laguna Plaza, (Parade and wreath laying ceremony to Dad Jose Rizal, National Hero's statue) and for the foods & drinks they prepared for us.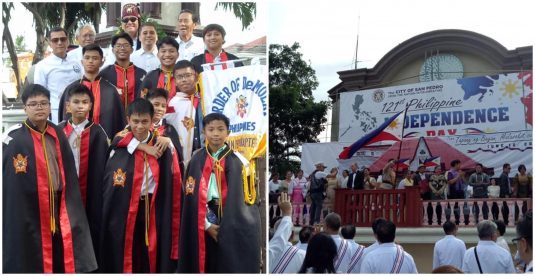 We would also like to thank our Majority Members who assisted us – Bro. Sabino A. Merciales III, PMC, KT who took the DeMolay Robes and new Chapter Banner at the San Pedro Masonic Temple and provided Transpo service for our Active Members; Bro. Mark Aurelio G. Marquez, KT who accompany us going to the San Pedro City Hall; and, Bro. Emmanuelle Rivera, PMC who helped us return the Robes and Chapter Banner back to San Pedro Masonic Temple and drove us back to our home safely; thanks to Dad Benjie Ortiguero, Dad Anton Bernardino and to all other Dad Masons who took care of us during the event.
We are also proud to watch Dad Ralph Comia impressive and inspiring performance of the Oath to the Flag.
The following members attended the 121st Independence Day 🇵🇭
Active DeMolays: 
1. Bro. Randolph Theron C. Silva – Junior Councilor 
2. Bro. Florencio E. Bagapuro III – Senior Deacon
3. Bro. Edward Jasper B. Remoquillo – Junior Deacon
4. Bro. Keith Howel K. Diamada – Senior Steward
5. Bro. Jhonbert B. Toroy – Newly Initiated
6. Bro. Jude Gabriel L. Gonzales – Newly Initiated
7. Bro. Elijah Gabriel I. Azur – Newly Initiated
8. Bro. Drew Margaux S. Antonio – Newly Initiated
9. Bro. Gabriel H. Lagunday – Newly Initiated
Majority Members:
1. Bro. Willardo S. Remo Jr., PMC, PP, Chev.
2. Bro. Sabino A. Merciales III, PMC, KT, President – SPDAC#32 
3. Bro. Emmanuelle Rivera, PMC
4. Bro. Mark Aurelio G. Marquez, KT
Credits to San Pedro Chapter Order of DeMolay FB Page