As a prelude to the 100th Year Founding Anniversary Celebration of the Order of DeMolay on March 18, 2019, the oldest known living DeMolay in the Philippines at 92 years old, Brother Ernesto C. Rivera, a Charter Member of Jose Abad Santos Chapter, the first DeMolay Chapter in the Philippines established on March 23, 1946, and its first Senior Councilor and Second Master Councilor (the First Master Councilor of the Order of DeMolay in the Philippines was Brother Jesus S. Vergara, who sadly passed away last year), visited the Philippine DeMolay Youth Center on October 16, 2018.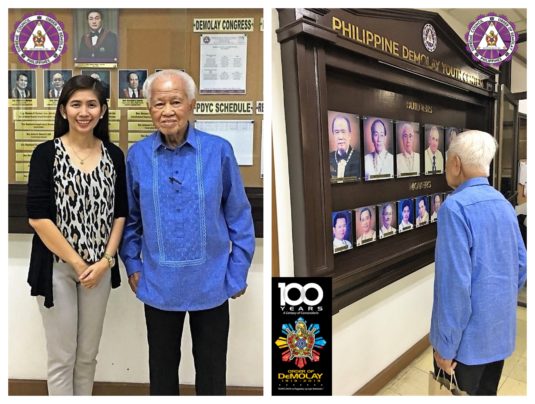 Hon. Edison Abella, Grand Master, of the Supreme Council, Order of DeMolay, together with Hon. Victor Antonio T. Espejo, Immediate Past Grand Master; Hon. Evaristo A. Leviste, Past Grand Master and Grand Secreray; Ms. Ma. Cristina M. Sordan, Executive Director; and DeMolay Legionnaire Ericson B. Atanacio, Chairman, Centennial Anniversary Committee, welcomed and received Brother Ernie Rivera, who is also a member of Bagumbayan Masonic Lodge No. 4.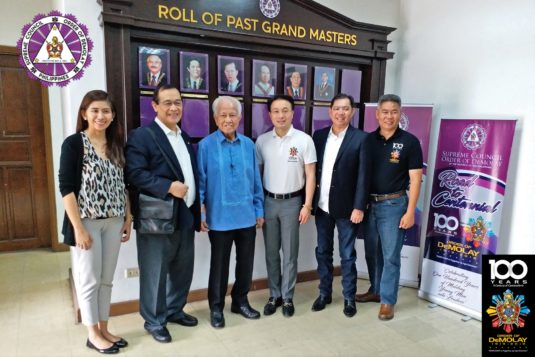 Brother Ernie continues to play golf a couple of days a week and will launch his first book, entitled: "Easy Reflections", on October 18, 2018 at the Ang Bahay ng Alumni in U.P. Diliman Campus, Quezon City. Asked how he managed to stay active and attained the age of 92, he replied: "live life with never a dull moment".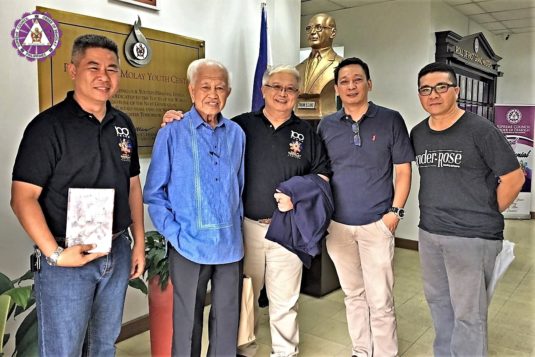 Brother Ernie graduated with a degree in Mechanical Engineering from the University of the Philippines and worked with Asia Industries before his retirement. He has five children, all graduates from the University of the Philippines, with Brother Noel Rivera, the Charter Master Councilor of Gen. Douglas MacArthur Chapter, as the eldest and followed by daughters Rebecca Gloria, Racheluz, Ruthebba and Roselle Lea, all members of the International Order of the Rainbow for Girls. Also present during the visit of Brother Ernie were Dr. Manuel B. Agulto, former Chancellor of U.P. Manila and a member of Jose Abad Santos Chapter, DeMolay Chevaliers Brother Rowan Labro of Gen. Douglas MacArthur Chapter and Brother Tito Cruz of Wadih C. Saab Chapter; and Brother Edwin Requiroso of Lapu-Lapu Chapter.
Credits to Bro. Barry Poliquit, Chevalier