The November 12 morning schedule of SCOD GM Edison Abella was tight and so the Misamis Oriental Governor, Bro. Yevgeny Vincente "Bambi" B. Emano made sure that time be accorded to the Honorable Grand Master in the afternoon.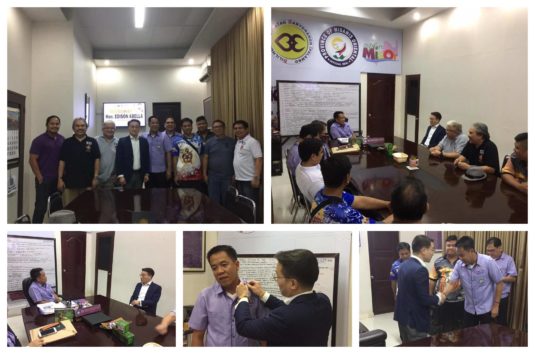 At 3:30 in the afternoon, GM Edison Abella and Gov. Bambi Emano finally met at the Provincial Capitol. The Province's top man is a Senior DeMolay of the Wadih C. Saab Chapter.
"Before the Grand Master arrived, tinawag pa ako ni Governor para mag review kami ng DeMolay obligation at seven cardinal virtues," Bro. Benjie S. Resma quipped. Also from the Wadih C. Saab Chapter, Bro. Benjie is the Provincial Veterinary Doctor and is very close to the Bro. Gov.
During the hour-long meeting, the Governor pledged his support to the DeMolay Centennial celebration. He also guaranteed help for his chapter mates who needs to attend the event in Manila on March 16, 2019. Grand Master Abella also pinned on Brother Bambi the official Philippine DeMolay Centennial pin.
The other senior brethren who helped facilitate the meeting were Bro. Marvin Gilig, Bro. Jay Jamero, and Bro. SP Poson.
Credits to Bro. Tito Cruz, Chevalier