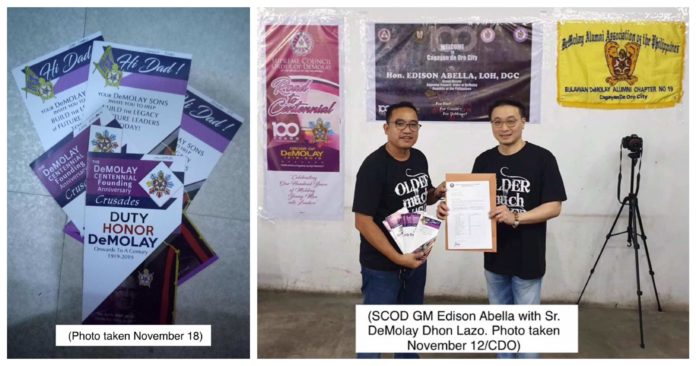 "Bro, naa pa mosunod ani, FSLCF and/or JDCF." (Bro, may susunod pa nito, FSLCF and/or JDCF). These were the words of Senior DeMolay Niño "Dhon" T. Lazo, the President of Bulawan DeMolay Alumni Chapter 19 in Cagayan de Oro City.
As of yesterday, the individual pledges for both the FSL and the JD Centennial Fellows in Cagayan de Oro City reached P460,000.00 from P380,000.00. The latter was turned over to SCOD Grand Master Edison Abella during an informal gathering and fellowship hosted by the alumni chapter last November 12.
Before the stated meeting of the Wadih C. Saab Chapter (WCSC) started yesterday, DAAP Secretary Bro. Alvin Llanderal, who is also a product of the WCSC, was seen talking to Senior and Active DeMolays about the JD and LGL Centennial Fellows.
Brothers Lazo and Llanderal have kept themselves busy seeking support for the DeMolay Crusades.
Credits to Bro. Tito Cruz, Chevalier