Master Masons and Senior DeMolays coming from Masonic Lodges and DeMolay Chapters in Western Mindanao have lined up to give their pledge of support and commitment as Frank S. Land Centennial Fellows and Jacques DeMolay Centennial Fellows under the DeMolay Crusades during the 25th Western Mindanao Masonic Multi-District Convention that was held on September 21-22, 2018 in Pagadian City.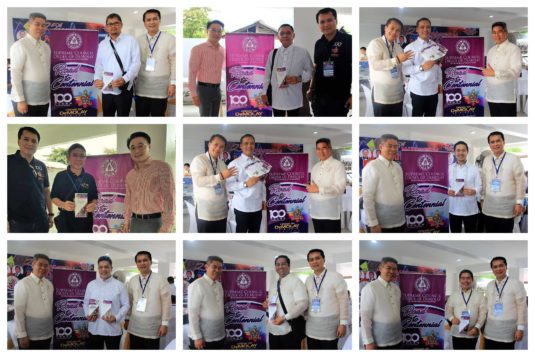 Grand Master Edison Abella and Deputy Grand Master Adriano B. Durano III, together with DeMolay Legionnaire Eric B. Atanacio, Chairman of the DeMolay Centennial Anniversary Committee, of the Supreme Council, Order of DeMolay participated in the stated Masonic affair, wherein they personally presented the DeMolay Centennial Crusades to the Master Masons and Senior DeMolays in attendance and tried to open and spur their interest to support the young members of the Order of DeMolay in the Philippines in their current programs and projects and even invest in their future through the DeMolay Centennial Crusades, which is part of the worldwide celebration of the 100th Year Founding Anniversary of the International Order of DeMolay in March 2019.
The Frank S. Land Centennial Fellow and Jacques DeMolay Centennial Fellow are once-in-a-lifetime membership categories that allow Master Masons and Senior DeMolays to show their continued support to the Order of DeMolay in the Philippines by making an investment in its future. Donations to the DeMolay Crusades shall establish the first ever Philippine DeMolay Trust Fund that aims to promote and sustain the growth and expansion of the DeMolay Movement in the Philippines in the next 100 years.
The following Master Masons and Senior DeMolays have pledged their respective support to the DeMolay Crusades: Master Masons Emir U. Abutazil, Jo Marc Agero, Frederick A.F. Asuelo, Rosberto T Bana, Roberto R. Barcela, Jr., Alandrex M. Betoya, Eric L. Bersales, Albine Dave V. Jubilado, Abdulkadil T. Manick, Aurelio M. Mendoza II, Rico C. Ocampo, Dominic T. Pongase, Engelbert B. Tee, Johnny V. Sy and Santiago D. Tolentino II as Frank S. Land Centennial Fellows; and Senior DeMolays Aurelio Akia G, Mendoza IV, Jared Julio G. Mendoza and Bayani Julian G. Mendoza as Jacques DeMolay Centennial Fellows.