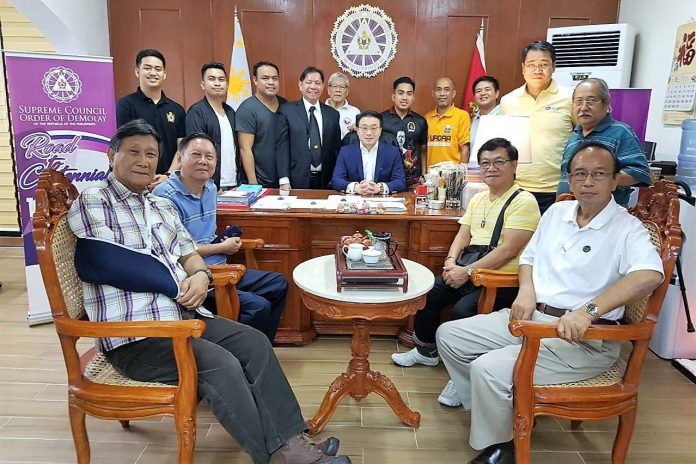 The Senior DeMolays of Jose Abad Santos Chapter, the first DeMolay Chapter in the Philippines, is the second DeMolay Chapter to become an elite member of the Grand Master Centennial Knights under the DeMolay Crusades last December 19, 2018. Jose Abad Santos Chapter adopted the model initiated by Gen. Douglas MacArthur Chapter in June 2018 in raising funds to become a Grand Master Centennial Knight.
The model of Gen. Douglas MacArthur Chapter showcased a special project, called: "GDMC 100", wherein 100 Senior DeMolays of the Chapter and Master Masons of the Sponsoring Body pledged and donated P2,000.00 each in order to raise the total amount of P200,000.00. Those Brethren, who gave their contributions, were included in the specially designed plaque, naming all of the 100 Senior DeMolays and Master Masons who were part of the "GDMC 100".
Grand Master Edison Abella, Grand Master of the Supreme Council, Order of DeMolay received the payment slip amounting to P200,000.00 from the Senior Members of Jose Abad Santos Chapter. A good number of Senior DeMolays from Jose Abad Santos Chapter are now based and residing in the U.S. and Canada.
Briefly, Jose Abad Santos Chapter, named in honor of Past Grand Master of Masons and Chief Justice of the Supreme Court, the Honorable Jose Abad Santos, was formed and sponsored by the Philippine Bodies of the Ancient and Accepted Scottish Rites of Freemasonry on March 23, 1946, just a few months after the Second World War had ended.
Grand Master Abella is encouraging the other DeMolay Chapters, in close collaboration with their respective Advisory Councils and DeMolay Alumni Chapters, to also apply the stated model or scheme, thus, participate in the 100th Year Founding Anniversary Celebration of the Order of DeMolay in March 2019 and become a partner in supporting and sustaining the growth and expansion of the Order of DeMolay in the Philippines in the next 100 years.
The Grand Master's Centennial Knights is an once-in-a-lifetime membership category offered for a limited period to a select group of individuals, organizations and corporations, who champion the worthy cause of character building and leadership development among the youth and are willing to make a considerable investment to their future. The other membership categories for individuals are the Frank S. Land Centennial Fellows for Master Masons, Jacques DeMolay Centennial Fellows for Senior DeMolays, and Louis Gordon Lower Centennial Fellows for Active DeMolays.
Credits to Bro. Barry Poliquit, Chevalier