Hon. Edison Abella, Grand Master of the Supreme Council, Order of DeMolay (SCOD) was the Guest of Honor and Speaker during the 40th Founding Anniversary and 51st Public Installation of Officers of Semper Fidelis Chapter that was held on August 11, 2018 at the Batangas Masonic Lodge No. 35 in Batangas City.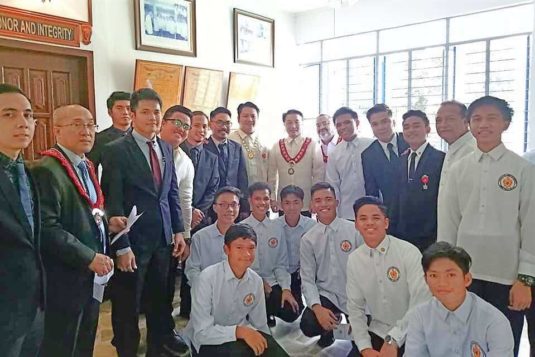 Senior DeMolay Raymond Charles R. Anicete, Worshipful Master of Batangas Lodge No. 35 and Chairman of the Advisory Council, and Brother Chevalier Reynaldo V. Mijares, Chapter Advisor, formally welcomed Grand Master Abella, who was accompanied by DeMolay Legionnaire Michael Francis M. Perez, Grand Junior Council of the Supreme Council and DeMolay Legionnaire Florante B. Comia, Executive Officer for Region IV-D.
Brother Martin John M. Magpantay was installed as Master Councilor of Semper Fidelis Chapter for Term 2018-B, together with Brothers Ralf Lorwen C. Campos as Senior Councilor, Ric Angelson V. Tingchuy as Junior Councilor, Joshua C. Rungduin as Scribe and Dale Anthony V. Tingchuy as Treasurer.
Brother Benjamin de Jesus Nepales, who was the Charter Master Councilor of Semper Fidelis Chapter when it was formed in 1978, was also in attendance during the affair.