FESTIVE! The one word that best describes the atmosphere at the Philippine DeMolay Youth Center (PDYC) yesterday, February 25, 2019.
Taking advantage of the holiday, a number of DeMolay-Masons, Senior DeMolays and some Active brethren from various Masonic lodges and DeMolay chapters trooped to the PDYC for the collaring and pinning of their respective Centennial regalia by Hon. Edison Abella LOH, DGC, Grand Master of the Supreme Council, Order of DeMolay (SCOD).
It was also a time for exchanges of pleasantries by brethren and friends who have not seen each other for some time. Laughter and jolly noises filled the air. The warm camaraderie of members of the Order was indeed visible.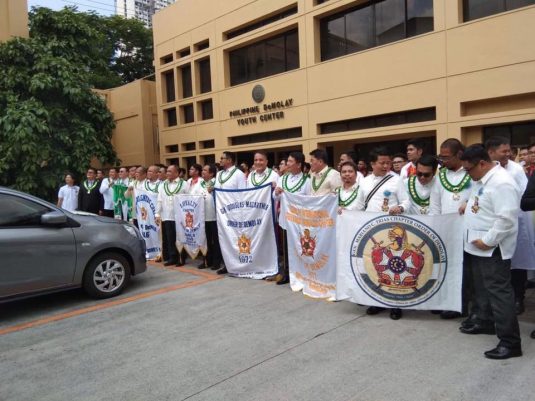 While this was happening, a sizable number of Active DeMolays from different Chapters were also engaged in an initial briefing, rehearsals and "mock up drill" of their role during the 100 years affair at the PICC on March 16.
The "exercise" is under the direction and supervision of Legionnaire Joel Lamangan, of the Emmanuel Baja Chapter in Cavite. Bro Lamangan is a well-known and seasoned Movie Director and filmmaker.
Credits to Bro. Tito Cruz, Chevalier