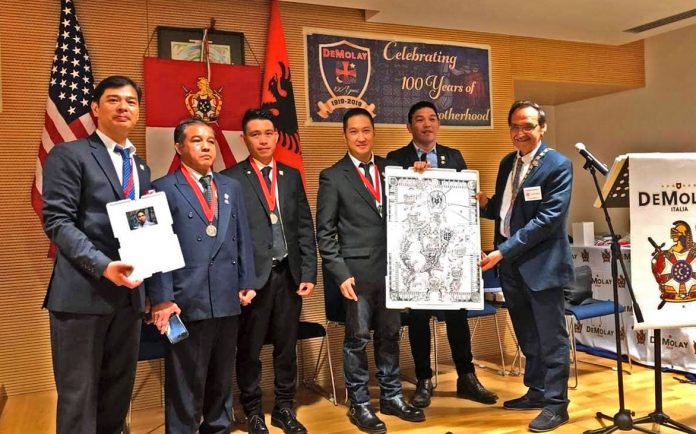 Filipino Senior DeMolay in Italy donated the art work of Brother Louie Talent to International Supreme Council Order of DeMolay Italy during the DeMolay Italia National Congress.
Brethren who attended the National Congress were the following:
1. Bro. Aris Edig (Dalisay Chapter)
2. Bro. Louie Angco (Loyalty Chapter)
3. Bro. Victor Gamboa (Semper Fidelis Chapter)
4. Bro. Randie Lazarte (Mt. Samat Chapter)
5. Bro. Llewel Madarang (Leon Kilat Chapter)
In conjunction to this, the group received a plaque of appreciation from DeMolay Italia Executive Officer and Grand Master Dad Luciano Critelli with National Master Councilor of DeMolay Italia.
Crusaders DeMolay Alumni Chapter No. 1 have 19 pioneering members. The first and recognize DeMolay Alumni Chapter in Europe under International Supreme Council and DeMolay Italia.
Credits to Bro. Randie Lazarte