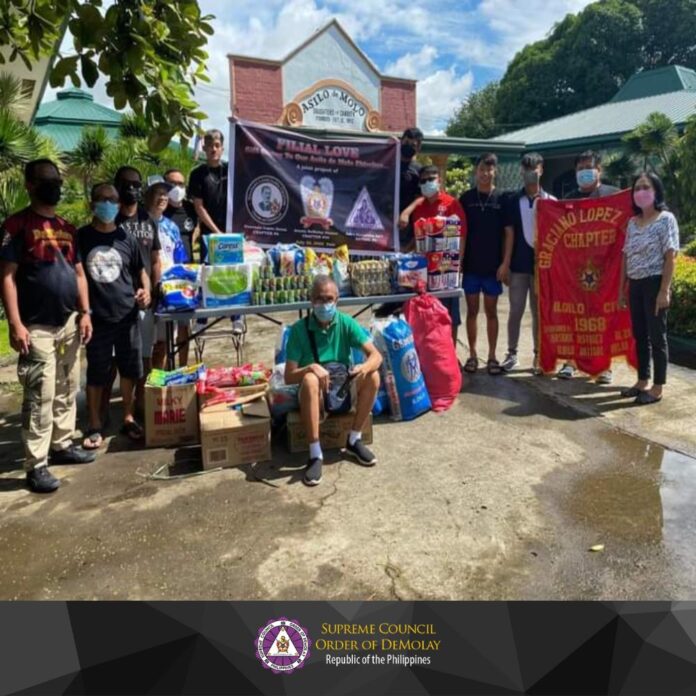 The Acacia DeMolay Alumni Chapter ( ADAC ) #35 conducted its 2nd Socio-Civic activity for the Term 2022-23, this time with a Gift-giving for the elderlies, together with the Graciano Lopez Jaena Chapter #8, Order of DeMolay & Job's Daughter International (JDI) Bethel #4 at Asilo de Molo on August 6, 2022.
Fortunately for the group, it was a bright, sunny Saturday morning for the much delayed activity (after more than a week of incessant rains ) with the GLJaena brethren and the day started with hot pan de sal, juice & pancit molo for breakfast at the Alagos' Residence.
After breakfast,the Brethren proceeded to Asilo de Molo, Iloilo City, for the much awaited Socio-Civic activity.
The gift-giving for the elderly residents of 25 females & 5 males plus the handful of caregivers present for the day consisted of assorted vegetables/dairy products, canned goods, adult diapers, hygiene kits, various toiletries & old clothing's. This Project was originally slated for July 30 but had to be postponed due to practically a week-long lockdown of the facility because of CoVid restrictions worsened by the inclement weather . So as not to unnecessarily disturb the residents , Ms. Magda Tumilba , Asilo de Molo Admin Staff, gladly facilitated the simple turn over of the donations.
After a brief turn over of the donations, the group returned to the Alagos residence for post-activity evaluation and the customary morning snacks of pancit molo, again, along with cold, refreshing cold strawberry juice.
The morning ended with lunch of hot sinigang & grilled red lapu-lapu freshly caught off the unpredictable waters of Maralison Island, Culasi, Antique, courtesy of birthday celebrant Bro Ian Caronongan.
At the end of the day , this Socio-Civic project of the Acacia DAC #35 together with the Graciano Lopez Jaena Chapter #8 was a realization for all the brethren that their little act of kindness brought happy , gracious smiles to the Asilo elderly residents.
Thank you , again, to the Graciano Lopez Jaena Chapter #8 brethren & Bethel #4 Sisters for their cooperation as well as to the Acacia DAC #35 members who contributed their resources, skills, talents and time for this meaningful endeavor.
Wattà day!
Until the next acts of kindness brethren…
FGFCFD!
"The point is not to pay back kindness but to pass it on"
Credits to Bro PJ E. Martinez, Acacia DAC #35