On February 4, 2023, Sinagbuklod Centennial Chapter No. 97, Order of DeMolay, conducted an info-drive and feeding program at San Miguel Elementary School in San Miguel, Natividad, Pangasinan. The chapter chose the grade 6 students as the beneficiaries of the program, with the aim of contributing something to the community where their Master Councilor, Bro Emmanuel Palecpec, grew up.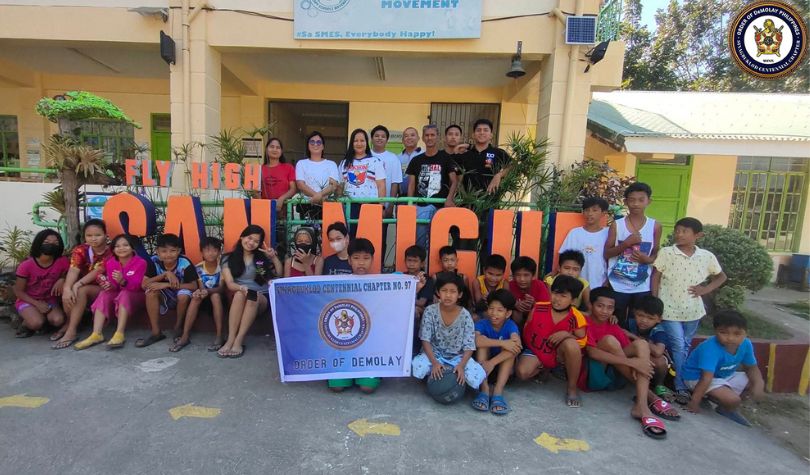 Education is crucial for the development of any society. It plays a vital role in shaping the leaders and followers of the future. To show their support for education, the chapter organized the program to provide healthy and delicious meals to the students. This would help to fuel their educational pursuits and preserve their minds.
The program was attended by several members of the chapter, including Bro. Emmanuel Palecpec, the Master Councilor, Bro. Ervin Palecpec, the treasurer, and Bro. Bryan Mejica. The chapter would like to express their gratitude to Dad. Reynaldo Mejica from Edilberto A. Tamondong Lodge No. 217, Dad. Reynante Palecpec from Agno Lodge No. 75, and his wife, Arceli Palecpec for their efforts and help in making the program a success.
In addition to the members of the chapter, several members of the Parent-Teacher Association (PTA) attended and supervised the program on behalf of the school. These included Leonardo R. Dulay, the SPTA President, Jenny E. Catap, the SPTA Vice President, and Joyce Ann Digma, the SPTA Auditor. Their support was invaluable in ensuring the smooth running of the program.
Overall, the Sinagbuklod info-drive and feeding program was a successful and meaningful event. It served as a testament to the chapter's commitment to education and community service. Through their efforts, the students of San Miguel Elementary School were able to enjoy a healthy and nutritious meal that would help them in their academic pursuits. The chapter hopes to continue organizing similar programs in the future and inspire others to do the same.
Credits to Bro. Emmanuel Christian R. Palecpec, Master Councilor / Rephrased – Leg. John Louie Marfil, Chev., LOH