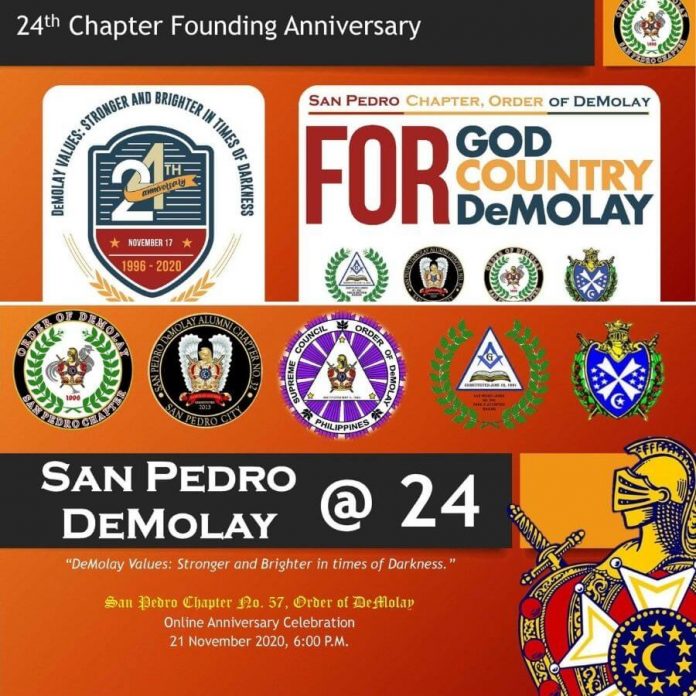 SAN PEDRO CHAPTER CELEBRATES 24TH FOUNDING ANNIVERSARY
Last November 21, 2020, because of the pandemic restrictions and catastrophe brought about by the recent storms, San Pedro Chapter Order of DeMolay quietly celebrated their 24th Founding Anniversary with a subdued, yet fun filled get together, albeit virtually, via Zoom.
The online Zoom celebration, with the theme "DeMolay Values: Stronger and Brighter in Times of Darkness" were attended by both the active members of the chapter as well as its senior brethren. In attendance, likewise, were members of the Advisory Council and other illustrious members of the said Chapter.
The active members who were in attendance were led by its current Master Councilor Brother Juan Miguel A. Capili and Senior Councilor Brother Czedriq Kenzo C. Baldovino, while the senior brethren present were led by the officers of the San Pedro DeMolay Alumni Chapter No. 32 like Chapter Secretary and Past President Brother Sabino A. Merciales and Treasurer Brother Bernard Thomas Rivera.
Members of the Advisory Council who were present were led by its Chapter Advisor Dad Benjamin Reuel R. Ortiguero Jr., Chapter Relations and Ritual Advisor Dad Sherwin M. Luluquisin, and Associate Chapter Advisor Brother Willardo S. Remo Jr. The Past National Master Councilor of the DeMolay National Congress Brother Ken Bryan B. Escano was also present to witness and participate in the celebration.
Some of the highlights of the night's affair were the messages shared by the Master Councilor Juan Miguel Capili, the Senior Councilor Kenzo Baldovino and the Chapter Advisor Dad Benjie Ortiguero. There was an audio visual presentation, showcasing the chapter's storied history, photographs of past activities, and messages from dignitaries and guests who couldn't attend the said affair, which was presented by Brother Ilad Remo. Also included in the evenings program was the formal launching of the Jacques De San Pierre (JDSP) DeMolay Merchandise Facebook Page by the Senior Councilor Brother Kenzo Baldovino.
To spice up the night, Brother Randolph Silva facilitated the online San Pedro Chapter Quiz Bee with DeMolay merchandises at stake as prizes. The grand winner was Brother Karl Abonado, who won a DeMolay Ring, while Brother Carl Pajadan took second place and won a Rajah Disenyo DeMolay Shirt and third place went to Brother Kyle Uy, who took home a DeMolay sticker.
After Dad Sherwin Luluquisin and Brother Carl Pajadan closed the formal proceedings with their remarks and prayers respectively, the online fellowship amongst the brethren present, followed.
"We would like to thank all our brethren, Moms, and Dads who availed of our special Anniversary Shirts and Masks to support our anniversary celebration" shared Past Master Councilor and Associate Chapter Advisor Brother Willardo S. Remo Jr. "Proceeds of the sale of those anniversary shirts and masks will help fund our charity projects in the future and will also help fund San Pedro Chapter itself" continued Remo.
Credits to Bro. Alvin Llanderal, Chev., LOH