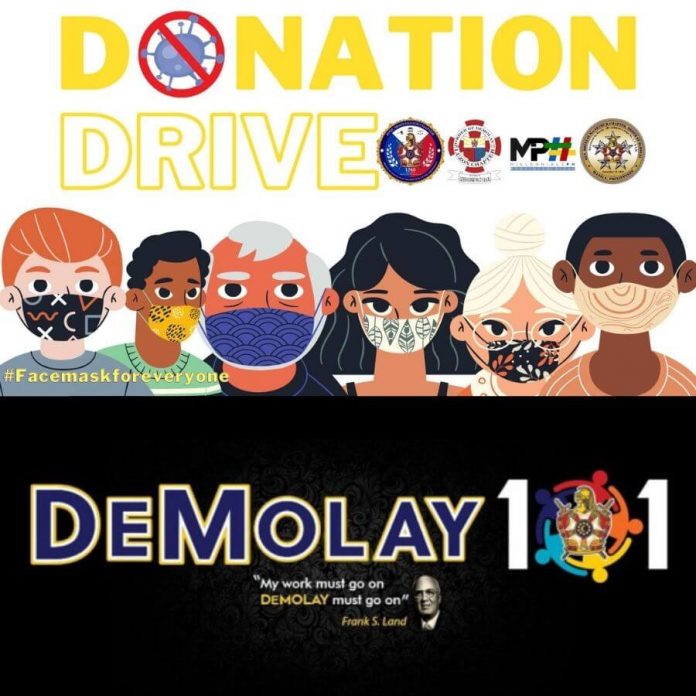 PAGKAKAISA SA PANDEMYA
Three DeMolay chapters based in the National Capital Region recently bonded together for a noble and worthy purpose. That is, to donate 600 pieces of re-usable facemasks to residents belonging to indigenous communities in the province of Rizal. The foremost objective of which, is to supplement and support them in their fight to contain and prevent the spread of COVID 19 in their respective communities.
Led by the Jose Abad Santos Chapter Order of DeMolay, together with the General Douglas McArthur Chapter Order of DeMolay and Luzon Chapter Order of DeMolay, the 3 chapters linked up with Millennials PH, a youth driven advocacy based organization, and pushed forward with this humanitarian mission of donating and distributing the re-usable masks to local individuals living in the indigenous communities located in Santa Ana, Rizal.
The joint project, which was implemented last August 2020, was the groups contribution in the global fight against the transmission of COVID 19. It is the hope, that with this donation and distribution of the re-usable masks to the intended beneficiaries, they could be protected from being infected with the virus and they could be prevented from spreading the disease in the said indigenous community.
The aim of this humanitarian mission, according to their official social media post, was to provide inhabitants in the indigenous community with the necessary preventive measure to help alleviate and mitigate the possible escalation of the disease and the effects of the pandemic in their particular area.
Jose Abad Santos Chapter, Gen Douglas McArthur Chapter and Luzon Chapter thanked Millennials PH and 10Eighteen, in their social media post, for the success of the project.
Credits to Bro. Alvin Llanderal, Chev., LOH