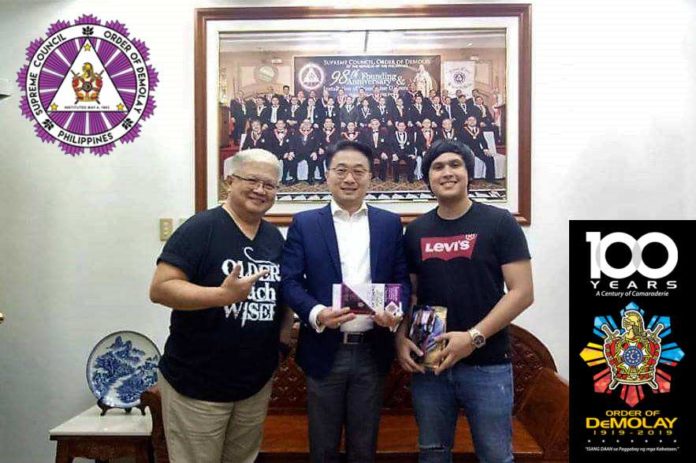 Hon. Edison Abella, Grand Master of the Supreme Council, Order of DeMolay (SCOD) received the signed form and membership payment of Senior DeMolay Simeon Josafat J. Licayan of Wadih C. Saab Chapter, which was handed over by his fellow chapter-mate, Brother Tito Cruz, and accompanied by John Josafat Licayan, to become a Jacques DeMolay Centennial Fellow on August 20, 2019 at the Philippine DeMolay Youth Center in Manila.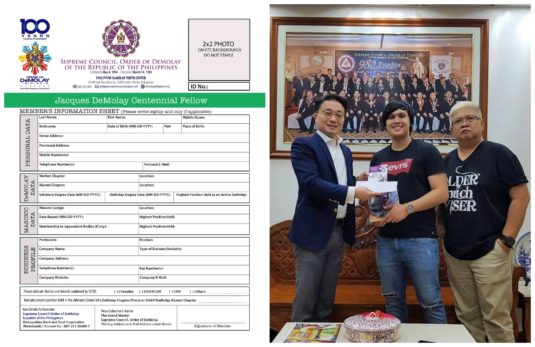 The Jacques DeMolay Centennial Fellow is part of the DeMolay Crusades, which are once-in-a-lifetime membership categories, that allows Senior DeMolays to show their continued support to the Order of DeMolay in the Philippines by making an investment to its future. The other membership categories are the Frank S. Land Centennial Fellows for Master Masons and Louis Gordon Lower Centennial Fellows for Active DeMolays. The DeMolay Crusades is one of the major projects and activities of the Supreme Council in support of the worldwide celebration of the 100th Year or Centennial Founding Anniversary of the International Order of DeMolay in March 2019. Donations from the DeMolay Crusades shall establish the first ever Philippine DeMolay Trust Fund that aims to promote and sustain the growth and expansion of the DeMolay Movement in the Philippines in the next 100 years.
To date, several Senior DeMolays from the following DeMolay Chapters have already signed up and paid their membership as Jacques DeMolay Centennial Fellows: Serafin V. Aguilar (Bacolod City), Lapu-Lapu (Cebu City), Gen. Douglas MacArthur (Manila), Cagayan Valley (Tuguegarao City), Semper Fidelis (Batangas City), Tomas L. Cabili (Iligan City), Ambrosio A. Flores (Quezon City), Mt. Matutum (Gen. Santos City), James J. Wilson (Zamboanga City), Dr. Manuel S. Bernardo (Tacloban City), and Wadih C. Saab (Cagayan de Oro City). Also, pledges or commitments from Senior DeMolays coming from the following DeMolay Chapters were also received: Pangasinan (Dagupan City), Wadih C. Saab (Cagayan de Oro City), San Pedro (San Pedro, Laguna) and Rio Grande (Kabacan, North Cotabato).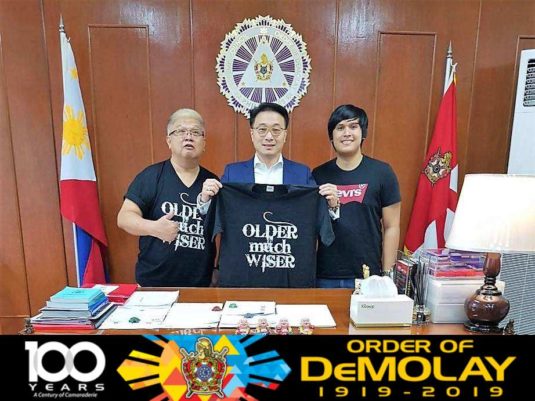 GM Abella is encouraging the other Senior DeMolays here and abroad to become Jacques DeMolay Centennial Fellows thus actively participate in the DeMolay Centennial Anniversary Celebration. Jacques DeMolay Centennial Fellows shall receive one free entrance ticket and one free raffle ticket for chance to win a brand new car during the Grand DeMolay Centennial Banquet to be held on March 16, 2019 at the Philippine International Convention Center in Pasay City. Also, the names of all Jacques DeMolay Centennial Fellows shall be etched in a permanent DeMolay Centennial Marker at the lobby of the Philippine DeMolay Youth Center in Manila.
Credits to Bro. Barry Poliquit, Chev.