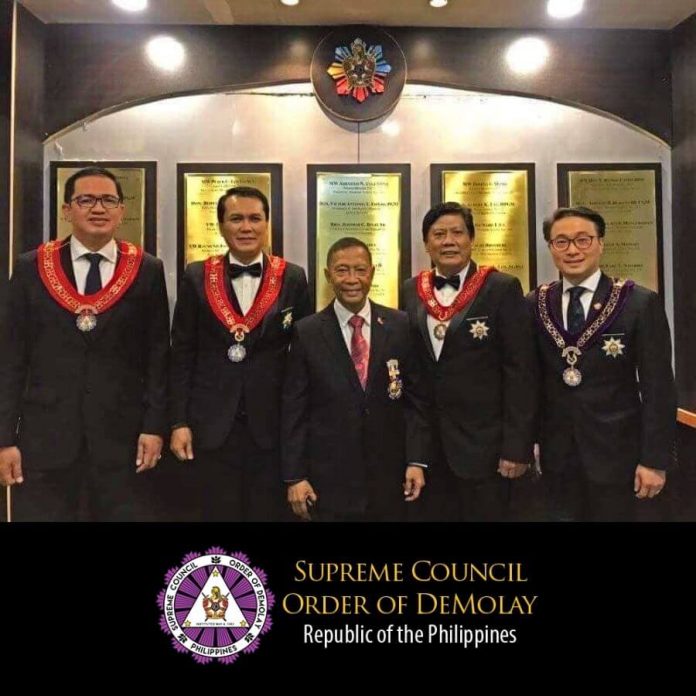 HAPPY BIRTHDAY LEGIONNAIRE JOJO
2254H/10november2020/tgc
November 11 marks the birthday of former Vice President and Brother Legionnaire Jejomar "Jojo" C. Binay.
Our worthy Brother Binay is a product of the Loyalty Chapter No. 3 based in Manila. As a youth he found not only real friends in the Order but also honed in on character building and service.
"These twin treasures of character building and service are what I shall always hold dear from my years in the Order. And I would not be completely wrong if I said that my experiences in DeMolay helped me on the road that led to public service and eventually, public office." (An excerpt from a speech delivered by Leg. Binay in November 9, 2012 at the PDYC where he received his DeMolay Grand Cross.)

Attached are photographs of him taken on March 8, 2020 while receiving his medallion and certificate as Grand Master Centennial Knight (GMCK) from CGM Adriano "Django" B. Durano III.
Also in the pictures are PGM Riz Reyes, PGM Edison Abella, Brother VW Earl Navarro and former Mayor and Brother Ariel Magcalas.
Credits to Bro. Tito Cruz, Chevalier, Legionnaire