DESERT CHEVALIERS DeMOLAY ALUMNI CHAPTER NO. 43, UAE is a DeMolay Alumni Chapter in Good Standing and duly recognized by the DeMolay Alumni Association of the Philippines and the Supreme Council of the Order of DeMolay.
Senior DeMolays who have pledged their support and cooperation to the endeavors of DeMolay Alumni Association of the Philippines, DAAP & Supreme Council Order of DeMOLAY, Republic of the Philippines, SCOD. 1st, by becoming not just an active Brother but an active Brother in-good-standing. 2nd, by abiding by the By-Laws set forth in accordance with the tenets of the Order of DeMolay and 3rd, by living up to the expectations of the Order.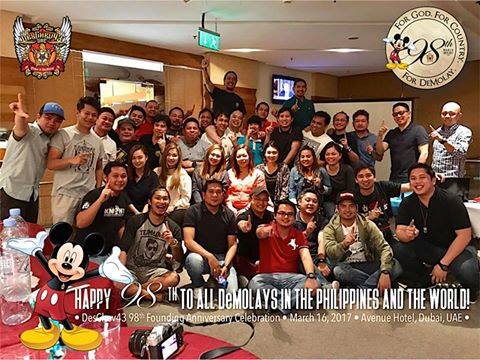 DESCHEV43 are residents of the United Arab Emirates and PROFESSIONALS in the fields of: Operations, Marketing, Customer Service, Engineering, Visual Merchandising, Retail, Literature, Entertainment, Media, Finance, I.T., Medicine, Logistics, Architecture, Culinary Arts and many more.
DESCHEV43 shall act as, ONE, a platform for ideals for the good of the Order and the betterment of the DeMolay Alumni Association of the Philippines and a showcase of the Chapter's labors in the hopes that we all can strive to be better. And TWO, to serve as partner of the DAAP and SCOD of the Republic of the Philippines in the propagation and promotion of the ideals of the Order among the youth.
The objectives of DESCHEV43 are the following:
1. To promote and ensure the continued development of DESCHEV43 while always ready to provide assistance to the order and other bodies of the Masonic Order in all practical terms, if and when required and necessary to do so.
2. To encourage and institutionalize the program of networking and linkages among all Active and Senior DeMolays, local and/or international, in order to strengthen the fraternal ties and enhance the individual and collective potentials of the members.
3. To plan and undertake viable, profitable, and sustainable projects in order to increase and maintain its social and economic commitment to its members and the society where it belongs and/or operates in.
4. To undertake worthy charitable works and other programs aimed at promoting civic responsibility amongst its members.
5. To give recognition, in cooperation with DAAP and SCOD, to Senior DeMolays for their loyalty, enthusiasm, and exemplary labors in working for the interest and honor of DESCHEV43 and the Order.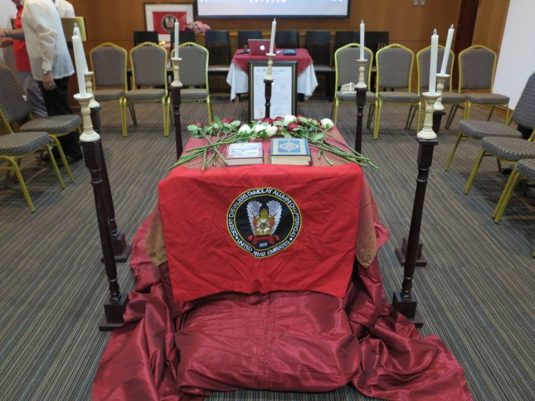 "We Are Few. We Are Proud. We Are the DeMolays of UAE – CHEVALIERS OF THE DESERT! For God. For Country. For DeMolay."
http://www.facebook.com/DesChev43
http://www.twitter.com/DesChev43