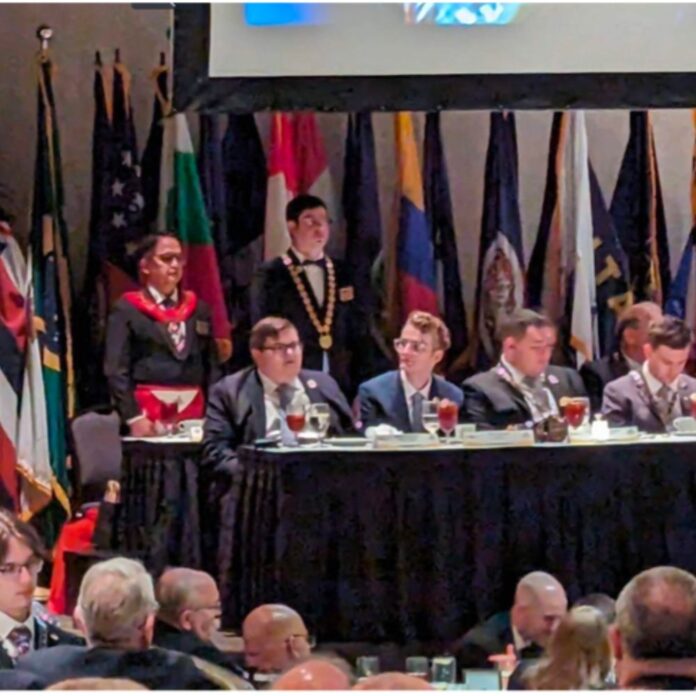 Last June 24, 2023 during the DeMolay International Session in Hilton Netherland Plaza Hotel in Cincinnati, Ohio, United States of America, DeMolay Philippines' Deputy Grand Master Raymond Joseph Ian "Raji" O. Mendoza was appointed as Grand Standard Bearer of DeMolay International. This is the second straight year that a Grand Line Officer of the Supreme Council, Order of DeMolay, Republic of the Philippines has been named member of DeMolay International's Grand Line Officers.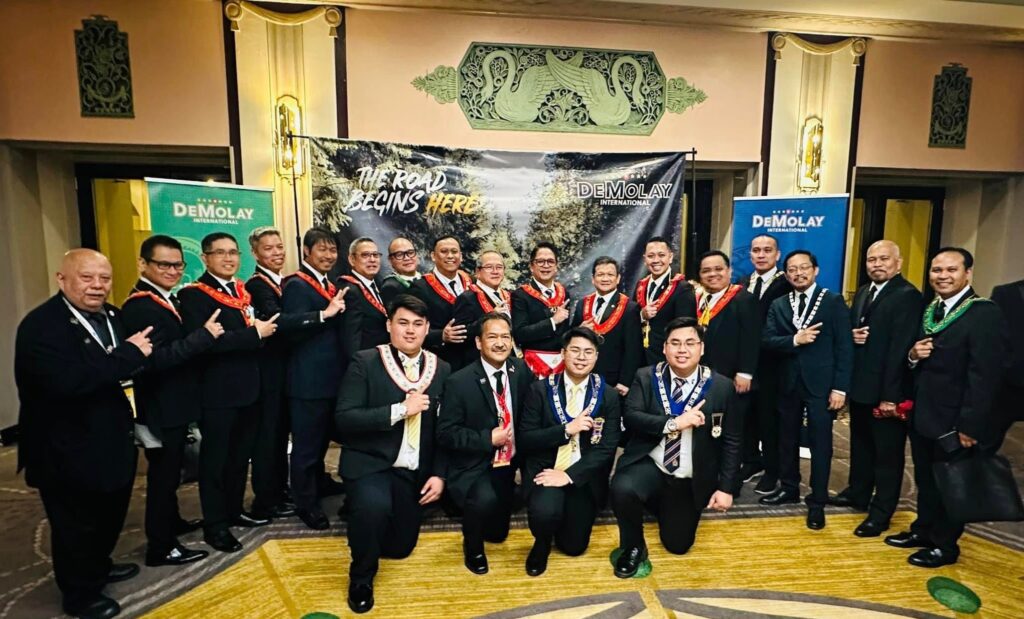 Deputy Grand Master Raji Mendoza is a DeMolay from Jose Abad Santos Chapter No. 1 in Manila and a Past Master of Manila-Mt. Lebanon Lodge No. 1 in Manila. A lawyer by profession with over fifteen years of active legal practice in various fields of law. He is married to Mom Karen Kaye Cruz-Mendoza and is blessed with four loving sons.
During the Session, Deputy Grand Master Mendoza thanked the leadership of Immediate Past Grand Master Jonathan R. Sellars who made an official visit to the Philippines in March 2023. With Filipinos having a habit of giving out generous tokens, DGM Mendoza gave PGM Sellars and new Grand Master Terry Peters a handcrafted lambanog or coconut spirit. The Philippine delegation also brought the wooden DeMolay altar gifted by Grand Master Edward Y. Chua last March 19, 2023. Before closing, DGM Mendoza extends the invitation to DeMolay International to visit and attend the forthcoming Biennial Session of the Supreme Council, Order of DeMolay of the Republic of the Philippines on March 2024.
He was joined on stage by Deputy Grand Commander for Mindanao Brother Vladimir B. Figueroa, National Congress Secretary Brother Frederick Atanacio, and National Master Councilor Brother Vincent B. Figueroa who also extended a personal invitation to the audience to attend the 2024 National Conclave, Congress, and Olympics in Tagaytay City, Cavite.
Grand Representatives are also in attendance to represent the Supreme Council namely Bro. Jose Avelino I. Magbanua, Leg. Ricarte B. Abejuela III, Leg. Gioriani A. Lontoc, Bro. Blen A. Calderon. Bro. Eric S. Delmo, Bro. Vince V. Sy, Bro. Samuel Eusebio, Bro. Rufino Zambrano, Bro. Paulo Kouhei S. Santos, Bro. John Randy Salangsang, Bro. Gilbert Cruz, Bro. Earl Aaron C. Garcia, Leg. Maynard B. Fernando, Bro. Diosdado A. Barawid Jr., Bro. Eric F. Evangelista, Bro. Laurence S. Uy, and Bro. Neque Talabero.