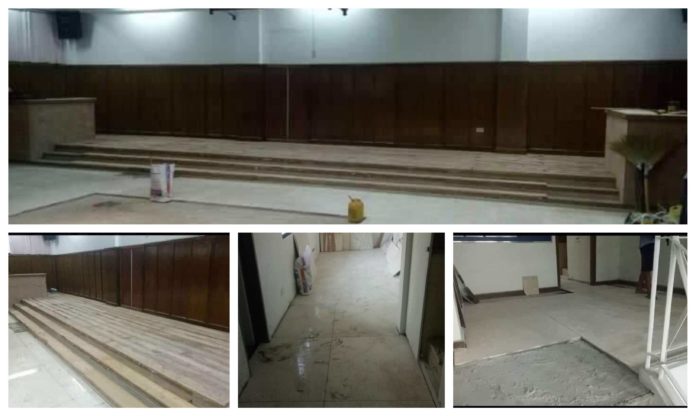 Tireless albeit the almost sleepless nights, the SCOD Grand Master — Hon. Edison Abella makes it a point to oversee the facelift of the ONLY DeMolay Chapter Room in the entire Philippines.
To date, the marble floorings leading to and inside the Chapter Room as well as the floor elevation in the East are almost done.
In his speech during the 1st Past President's Night of the Escudo DeMolay Alumni Chapter No. 4, the Grand Master said that the inauguration and blessing is scheduled this coming December 8.
The repairs and renovation of the said Chapter Room began on October 12, 2018 and its completion is expected by the end of November this year.
A witness to numerous solemn and meaningful DeMolay functions, the DeMolay Chapter room is located at the second floor of the Phillippine DeMolay Youth Center (PDYC). The edifice also houses the Supreme Council, Order of DeMolay of the Republic of the Philippines (SCODRP).
GM Abella reiterated that the contributions for this project are separate from the support given to the DeMolay Centennial Crusades.
Donations for the DeMolay Centennial Crusades will be used for the first-ever DeMolay Trust Fund in the country. It is earmarked for the establishment of a DeMolay training or leadership academy.
Credits to Bro. Tito Cruz, Chevalier